Inhaltsverzeichnis
Restart customer terminal
Project order
Objective
Modern, easy-to-use and customer-friendly design of the self-service terminal interface.
Focused display, self explanatory menu, adapted to the operating height of the screens.
High usability and recognizable optics for every golfer - independent of the golf course - with a similar appearance of the user-friendly symbolic main menu and sub-menus.
Project tasks
Design galery: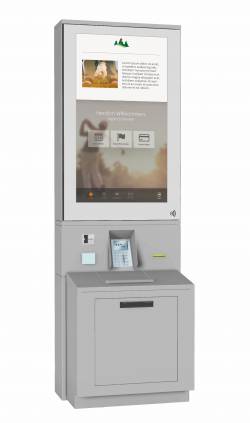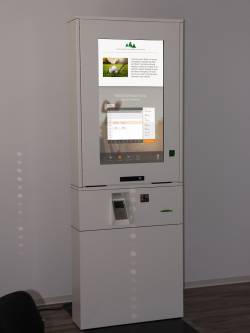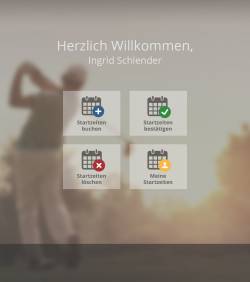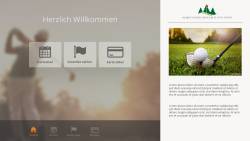 Terminal bag tag with A4 format scorecard: design example
Mandatory content:
For easy, user-friendly usage: the menu is replaced by a "one-way" icon/button. The main menu to the terminal functions for tee times, golf instructors, green fees, tournaments, and card credits are on the start screen. By clicking on the selection, the customer will be guided to the target, possibly via a sub-menu. For a different selection, the customer returns to the Start menu (Back Button), exits or aborts, or uses the function change via the Footer menu. These points are necessary for this:
Distribution of the operating and info area of the terminal screen to the optimum view and operator height.

Two graphic areas: info area with logo, picture and text above and wide visible - operating menus at eye/upper body level

Main menu, submenu, icon guide, footer bar navigation, back button, logout button.

Programming for simple setup of the terminal interface with icon, button, pictures, texts.

Design and graphic editor for these screen sizes:

46″ Full HD with operator menu and info area

23″ with operator menu (when using the 46 "Full HD terminal for Infoscreen and Self-service)

24″ with operator menu and info area for the small self-service terminal.

User-friendly tee time booking: dividing and arranging booking windows more clearly, in friendly colors and independent of local PC CADDIE club settings.

Graphic board additionally showing booking information
Additional content
Unique login for all functions / Automatic logout after 30 seconds of inactivity

Show help texts for operator: "Please take the score card from the printer" - "Please take the Bag tag from the printer" - "Please take the receipt from the printer" - "Please remove the card from the card reader"

Automatic icon layouts depending on terminal function selection.

Terminal booking windows independent of local color and font settings
Terminal types
Installed Terminals
en/einstellungen/kundenterminal/relaunch_kundenterminal.txt · Zuletzt geändert: 2018/12/05 13:55 von emilia