Inhaltsverzeichnis
Article list
You can find the complete list of articles in PCC via Articles/Print…/List of articles (or Setup/Fees/Print/Print List/Article List) with these various options: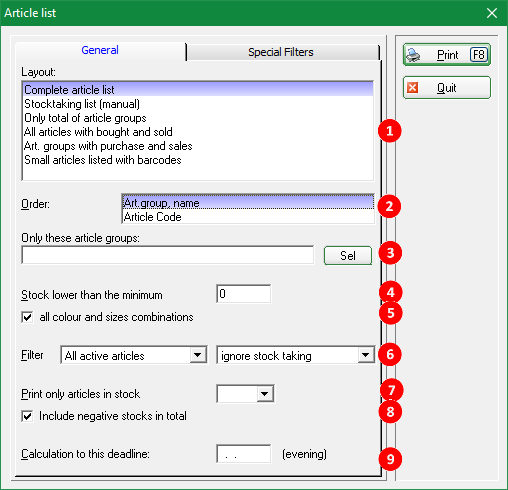 Various Layouts for your lists

Define the Order to sort the listed articles

Select specific article groups with the button Select

List of articles referring to the minimum stock level

With or without Colour/Size combination

Different filters for active, inactive and payment methods possible; regard inventory management

Consideration of Inventory

Integration of negative inventory

Print list with another key date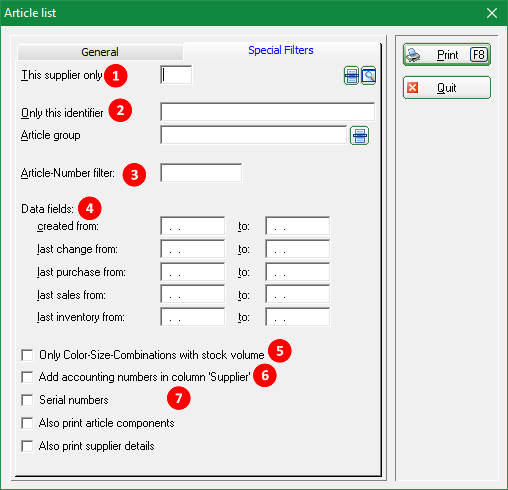 Selection of a particular supplier with the help of the list function button

Selection of a specific identifier of an article

Enter a specific article number

Definition of data areas, for example, creation of an new item or last change/last purchase/last sale/last inventory

Display of articles only with colors / size combinations with inventory

The FA number is printed in the supplier column

The serial numbers are also printed
We will now describe the different kind of Layouts.
Complete article list
The complete article list will look like this when using the default setting:

Article no. incl. colour/size combinations

Short name of article groups

Article name

V.A.T.

Purchase price net

Sales price gross

Margin in percentage

Minimum stock level

Current stock

Abbr.

Supplier
Stocktaking list (manual)
Totals of article groups only
This list only contains the totals of the article groups.
All articles with purchase and sale
Article groups with purchase and sale
This list is similar to the list "All articles with purchase and sale" but will only show the totals of the article groups.
Small articles with bar codes
en/umsaetze/proshopwarenwirschaft/drucken/artikelliste.txt · Zuletzt geändert: 2019/09/27 15:42 von emilia