This function allows you to mark the invoices for which you have created debit files as paid; you can access it under Accounts/Payment-Interface/…Reset debits.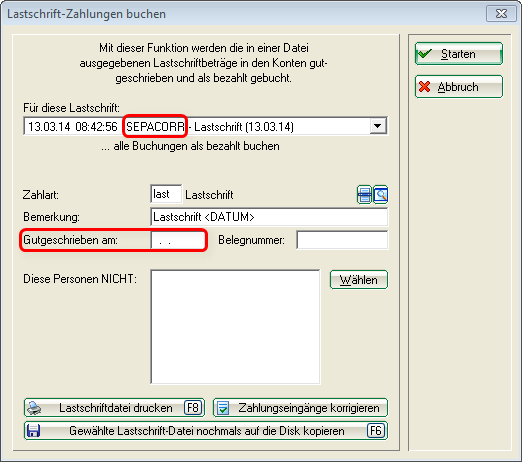 First select the concerned debit file. In our example, it is a SEPACORR file, i.e.. there are both primary and subsequent direct debits in the file.

If you did not enter a date at "credited on", the date that you used when you created the SEPA file will be automatically used for booking. That is, the primary debit can be booked on a different date than the subsequent debits, which might have had an earlier date when creating the SEPA debit file. If you enter a date, ALL direct debits will be booked on this date.

Please input the Payment method, if there is nothing already pre-set.

You should not exclude from booking the persons for which the transfer did not work. We recommend you book all payments, and cancel the booking directly in the account of the persons for which the payment could not be completed, for example because of lack of sufficient funds. You can use the PC CADDIE Chargeback manager for this. You can also better observe the situation in the client's account, and you have the advantage that you can already write off the debit, if your file is read into the online banking program, or you have stored it on a disk. If necessary, you can cancel the refusals in each account.

Start the process after verifying the settings.
HINT: You can print the check-list for one debit file by pressing the Print debit file (F8).
You can see a floppy disk symbol in the account of the affected clients:

The debit is visible in the account as presented in the following screenshot:

If you want to cancel a payment: select the payment, right click on Cancellation(F5) and then again on Cancel. Then select the appropriate option in the Chargeback manager :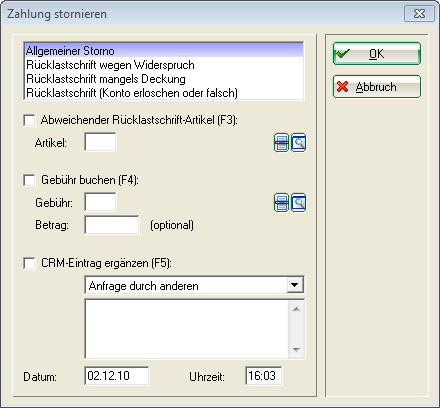 If you want to charge a fee, select an article that you have previously created. Should you want to change the amount of the article, you can do this under Amount (optional). The customer's account looks like this: