Table of Contents
PC CADDIE://online InfoScreen
The InfoScreen is a PC CADDIE://online service and serves to display various information of your choice. It is a page displayed on the internet. The ultimate goal is to populate the data in one place, and have it displayed in different places.
Here are the first questions::
Which of the 3 development levels would you like to use?

Should your screen be used in portrait or landscape format?

If landscape: Would you like to see the information in one or two columns?
3 development levels
InfoScreen Standard
The InfoScreen Standard is the one suitable for first tee, and informs the customers about tee-off times and transit times to tee 10. In the background it also serves for start time booking: a player which does not appear there, simply cannot tee-off
.
This is how your screen might look like: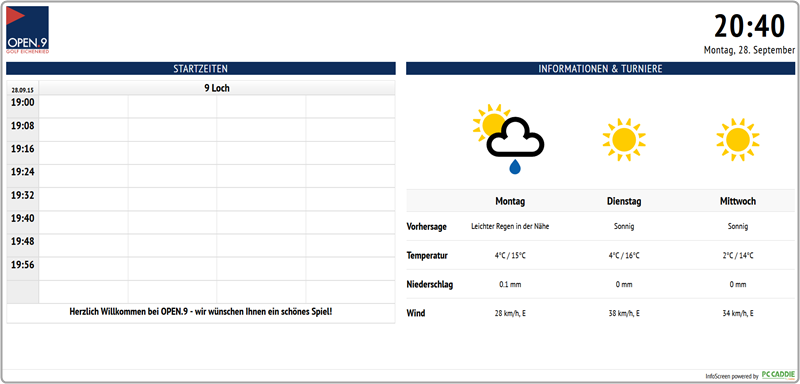 The calls in the secretariat are significantly minimized. The ads show your members/guests, that despite their delay on the sunny, early Sunday morning, their start time is safe and the flights shift backwards.
InfoScreen Plus
The InfoScreen Plus has some additional features compared to the InfoScreen standard. It offers a little more entertainment depending on your choices.
InfoScreen Premium
The InfoScreen Premium also offers check-in functionalities for your customers.
Format
The screen is basically available in 2 formats.
Portrait
Portrait is very popular with outdoor areas.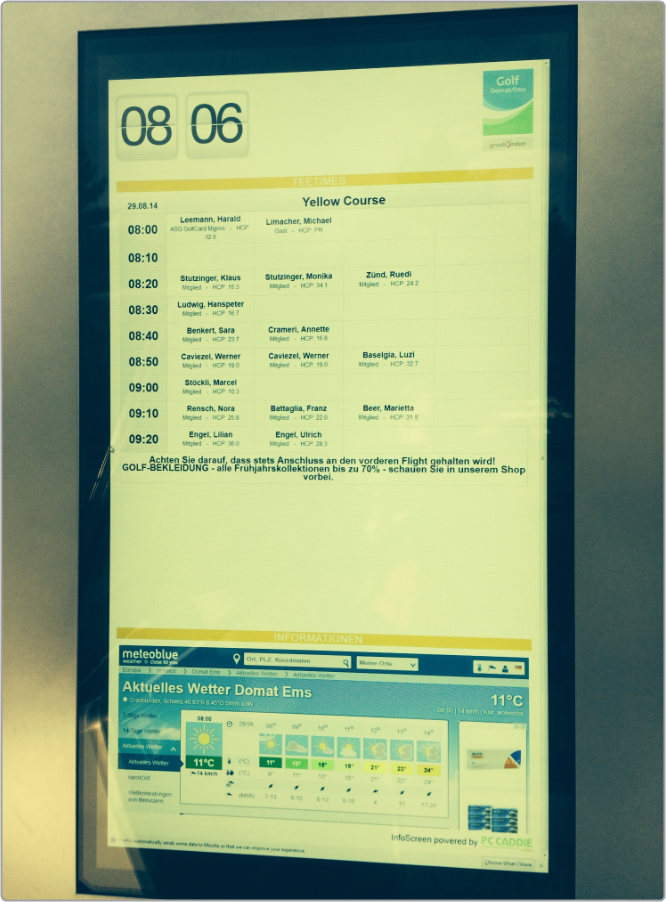 Here, the golfers can spontaneously see freed-up times on an outdoor terminal.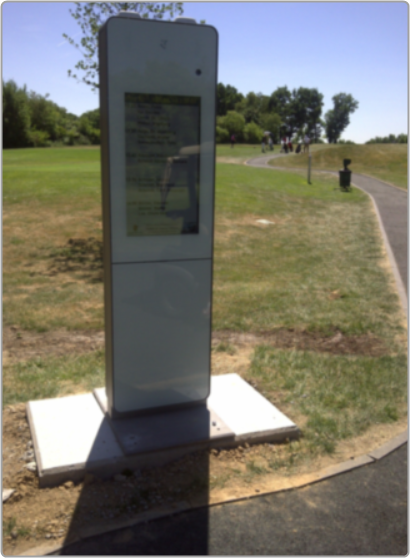 Landscape
Column selection
The landscape format offers two different posibilities.
Single column
The single-column screen is particularly suitable for smaller screens..
You can see here an example for a single column InfoScreen.
Two columns
The two-column screen offers more options. Various information can be displayed simultaneously.
You can see here an example for a two columns InfoScreen.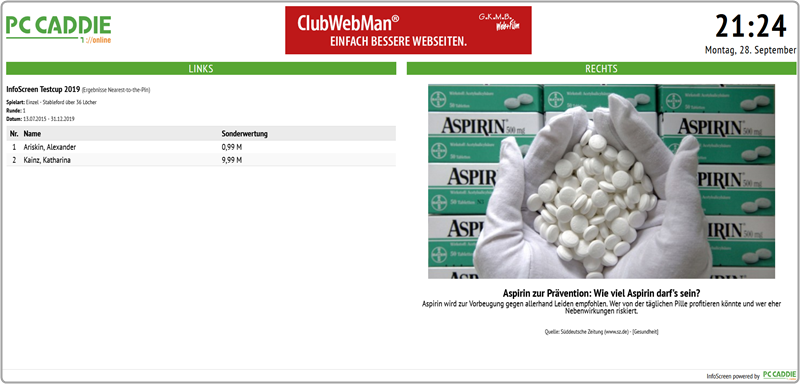 System requirements
Please note the following system requirements:
The screen of any size must have a FullHD resolution of 1920×1080 pixels (graphic interface to the screen (VGA/DVI/HDMI)).

The computer that controls the screen must have an HTML5-enabled browser: IE 11, Google Chrome. You can buy this on request, already configured by us;

just contact us

.

The computer must be permanently connected to the Internet (LAN/dedicated WLAN).

A direct connection to the local PC CADDIE system is not required, so that also stable UMTS/LTE connections can be used.

The device should also have a TeamViewer host with fixed credentials installed - this guarantees quick help.

InfoScreen Premium also requires a touch-enabled monitor.
Operation of the InfoScreen
Customer service