Inhaltsverzeichnis
PC CADDIE://online course occupancy
The PC CADDIE://online course occupancy is a possible extension to thePC CADDIE://online Tournament management. With this tool, your customers can get a quick overview of the events on the golf course. They quickly and easily see how busy the course, the secretariat, the driving range or the catering are.
Your benefits at a glance::
The tournaments are entered fully automatically.

The tournament entry connects directly to your PC CADDIE://online tournament calendar via a Hyperlink.

Guest groups can be visualized quickly and easily.

The space occupancy is in responsive design and thus completely adaptable to the output device.

The design can be adapted to your CI via CSS.
Format
Think beforehand which areas you want to show and record. Below are a few practical examples.
Single-column format
The place overview in single-column format looks as follows:
Multiple columns
The multi-column format offers an overview of several courses or sections.
Configuration
Administration
The club occupancy is created base on automated events and manual entries.
Automatic tournament entries
Please call up the desired event/tournament in PC CADDIE. The button Online takes you to the resource management.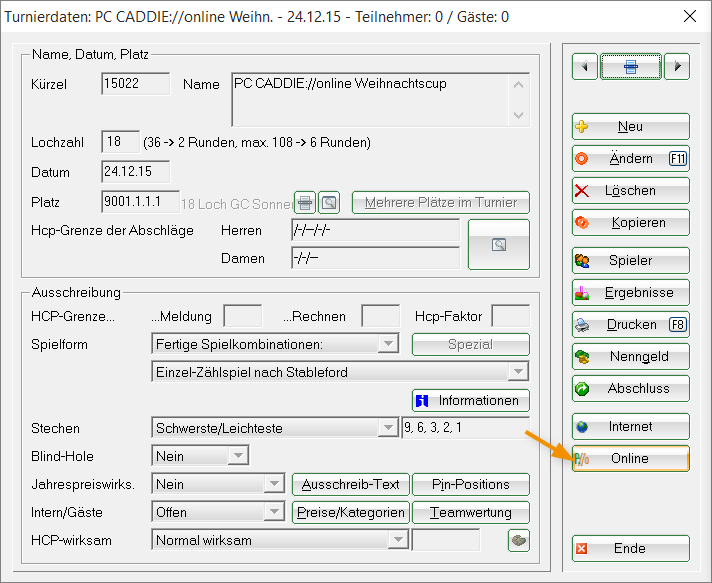 Enter the Time frame from… to….

Select the appropriate

Resource

. The resources are configured in

Timetable

.

The lockout goes directly as a filter blocking into the timetable. You do not have to book separately over the timetable.

As Information you can, for example, make a note or mark a different tee or a Shotgun start.

If it was a multi-round tournament, you can enter a 2 for the 2nd Day and also announce the occupancy.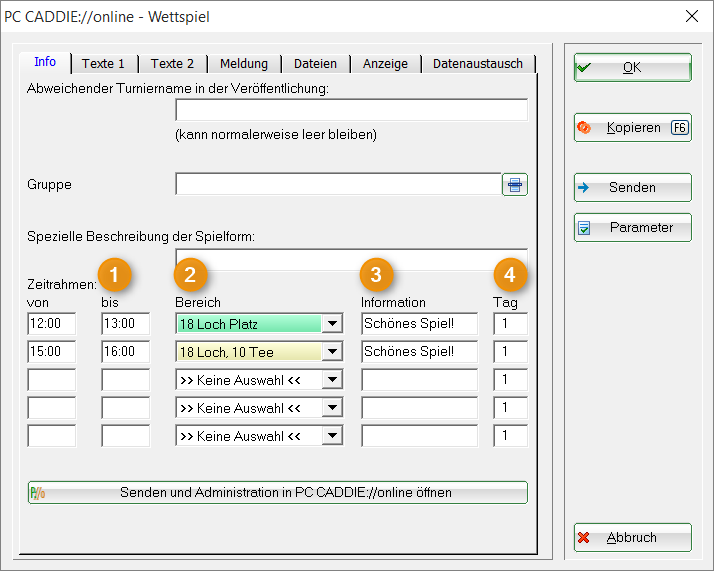 Finally, confirm with OK. The entry goes directly into the course occupancy.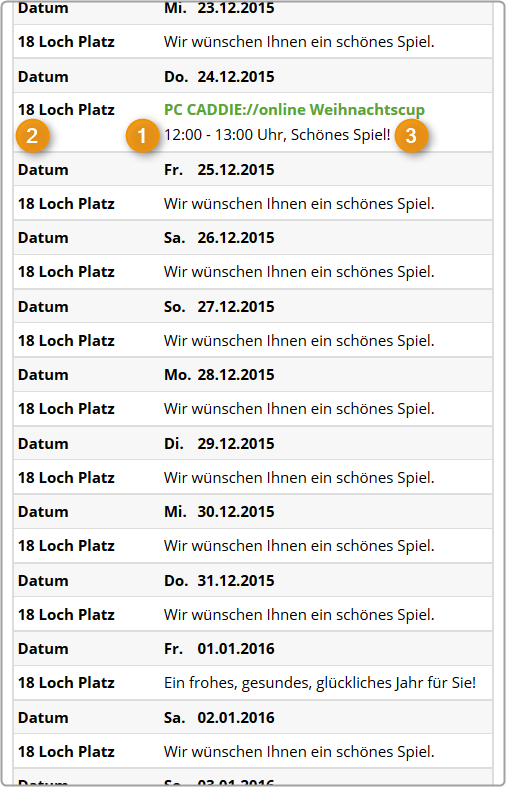 Link the event/tournament directly to your event calendar via the PC CADDIE://online Club manager. The customer can register easily and directly for the event.
Manual entries
Standard entries
Questions? Issue? Wishes?
en/online/onlineplatzbelegung/onlineplatzbelegung.txt · Zuletzt geändert: 2020/08/25 14:00 von emilia