You can make different settings about your club, including the bank account, via Setup/Program Options/Club Address, Banking Details. This information can be entered separately for each account area. A specific account area (usually CLUB) is set for the intranet.
The data entered here can be automatically inserted into invoices and letters as headers or footers! Please do not hesitate to contact us if you have any questions.
The "License", "Test" and "Extra" buttons can only be used by PC CADDIE Support. The "Name" can also only be changed by PC CADDIE Support.
The button

opens the following window, where you can enter the bank details as well as your SEPA creditor identification number.
These inputs are only valid for the selected account area. You can store different bank details for different areas.
Clicking the

button opens the following window, where you can store the functions for your club. This is only important in the account area set for the intranet (usually CLUB).
Use the

button to define a person's functions. This information is then transmitted to the intranet and is available for the interested parties at www.golf.de or www.mygolf.de. Already entered persons can be viewed and verified via the IIS. More information is available here: Intranet.
You can name as many club members as you wish using the "Supplement additional person" button.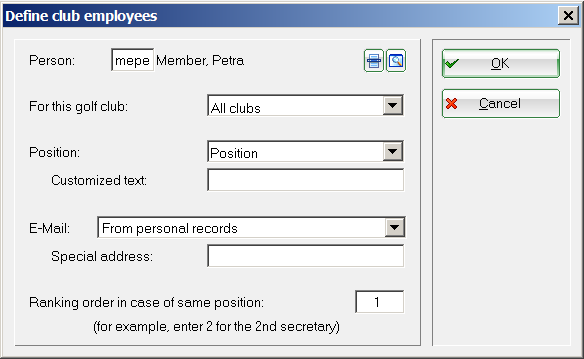 You can use Position to assign predefined functions to the selected person: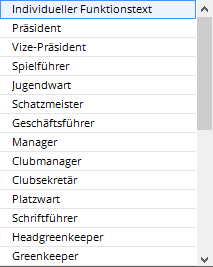 If a function is not included in the list, you can enter it manually using the Customized Text cell for the selected person. However, this is not meant for specifying the gender of an employee. For example, if a woman is the "President" of the club, PC CADDIE automatically identifies the correct gender.